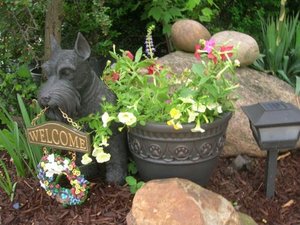 Our policy is we don't want anyone leaving here with a puppy that they feel is not what will be a new member to their family.Many of our dogs have also gone on to be service dogs, we love that!
We love to show our dogs as well, and sometimes do quite well! We also have MANY of our Schnauzers all over the world, in many different countries. You see, our White Schnauzers happen to be of superior quality, and since AKC cannot let us show them in AKC shows due to the Schnauzer Club of America still not accepting the color WHITE,( every other country in the world does!) they are from time to time sent out in the world to prove it!!! That is not to say we don't love all the colors of Schnauzers, and we have devoted years into breeding really nice quality pups that people have taken into their homes and have turned out to be very special members of their families. We always raise them in our home, they are underfoot at times in our kitchen, so they are very socialized little guys. We love getting photos and stories about our puppies new lives, and that is what makes it worthwhile.
It will take you to an article published in the NEW YORK TIMES COVER STORY  about one of our dogs CHANCER  Chancer is the Son of Quinn and Windy.    http://www.kehillatchaim.org/wonder-dog His story is also  in 3 children's books.
PLEASE READ THE FOLLOWING
We require a deposit. This is to get on the waiting list. If you can't wait for a Mervar Kennel puppy please do not make a deposit. IT IS NOT REFUNDABLE so do not ask for a refund.. Sometimes you may have to wait for a while. We are not a puppy mill breeder. We have a few litters a year. Mother Nature decides how many pups are to be in a litter, not us. Your date of your deposit determines the order of picking. if you do not get a pup from our next litter you will be moved to the next available litter. if for some reason you can't take a puppy from an up coming litter we will gladly move your deposit over to the next one. But it is not refundable.   ALSO,  as of July 5th 2019,we have had to change the policy a little. Due to some dishonest people, we will not longer accept personal checks for deposits or for payment when puppy is picked up. We can take payment thru QUICK PAY FROM YOUR BANK TO OURS, CREDIT CARD, OR CASH.
Thank you.